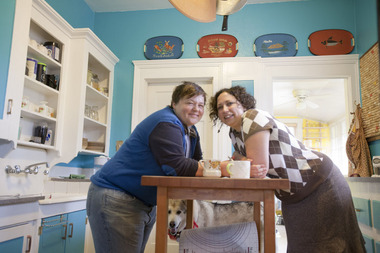 A couple of years ago when I first met Patri and Shar, I recommended that they look into the Portland Housing Center as a resource while they were preparing to buy their first home. This past summer, they bought that home with the help of PHC, and the Oregonian just wrote an article about the couple and their work with PHC.
From the article: "The Portland Housing Center (PHC), at 3233 N.E. Sandy Blvd., offers a number of services to educate buyers and help them through the process of buying a home. Clients often start with Homebuying 101, an 8-hour HUD-certified class held regularly at the PHC and online.

PHC also offers a Financial Fitness class and one-on-one counseling. The full array of services costs $65, and starts with a "homebuyer assessment" — a counseling session to talk about the buyer's home buying goals and what it will take financially to achieve them. The same counselor — called a HomeBuying Specialist — follows the buyer through the entire processing of buying a home.

The PHC even offers mortgage loans, as well as special programs for low-income buyers that can assist with a down payment."
Click over to the article to read all about how Patri and Shar worked with Portland Housing Center to make their first home a reality. If you have questions about buying a home with the help of PHC, drop me a line.
And, look at their Xmas tree!