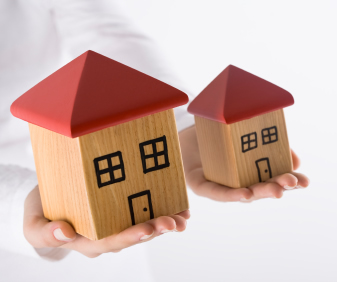 One of the hardest decisions a homeowner can ever make is selling the family home. Memories and emotions fill every corner, every nook. But, the kids are grown and the house is just too big for your needs anymore. The time has come to downsize, but the challenges of how to do it get in the way of taking action. The challenges fall into two categories—dealing with people and dealing with property.
Dealing with People: You might be emotionally prepared to take on selling the family home, but your children, grandchildren and extended family may not be ready yet. Even though you are the homeowner, everyone will feel they have a stake in what happens to the homestead. Communicate your needs and goals clearly, and take the time to hear and understand everyone else's emotions, as well. Even though you as the homeowner retain final decision making power, tensions can run high, so it is important that everyone feel heard when it comes time to making decisions.
Dealing with Property: Now it is time to be hard on yourself, especially in terms of your possessions and the condition of your home. It can be a struggle to get rid of 30 years of possessions, so involve everyone in the process. After everyone feels they have that little bit of home to take with them, get a professional organizer to help get rid of clutter—donate as much as you can, recycle whatever possible and throw away whatever is left. Consult with me or a home inspector to decide which repairs and upgrades to make in order to maximize the market value of the home. Finally, you might think your home appears cozy, but please bring in an interior decorator or home stager to help you make the home shine in comparison to other homes on the market.
A good friend of mine says about communication, "Be soft on people and hard on issues," and I think that rings true when it comes to downsizing the family home. Make sure the whole family feels included, even when you will make the final decision. And, be tough on the house when it comes to preparing the home for market. Ask yourself, would you buy this house if you were currently in the market?
Finally, you will have to deal with the future. Where will you move? Time to drill down and think about your reasons for the move. What do you want your life to be like in the next 5, 10, 15 years? Many retirees these days want to downsize into a downtown condo for a simple life near stores, restaurants and amenities. Or maybe you're ready to give up the busy city life for a quiet country life? The future is yours and it is waiting.