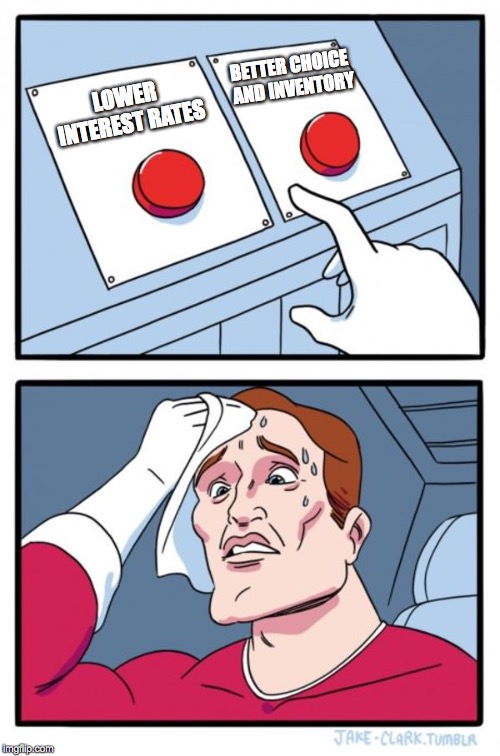 Home buyers are torn right now between shouts of joy and sighs of disappointment. These are times of ambivalence for home buyers. But, it does not need to be. Opportunity abounds!
On one hand, inventory is increasing and prices are stabilizing (and even coming down in some regards). Buyers have more choices in the market than they have had in years. And, with so much choice, they rarely have to compete with other hungry, desperate buyers. In other words, home buyers no longer have to give up their firstborn child to beat the competition in the PDX real estate market.
Then, on the other hand, interest rates are rising. Sigh. For years, home buyers were drunk on the savings that came with historically low rates in the low-to-mid 3's. When the market started to bump up into the 4's it didn't feel too bad, as that is still a pretty good deal. But, now rates are well into the 5's, even for those with stellar credit. We may not see interest rates between 3-5% again for a long time, if ever. For perspective, that one percent increase in the interest rates can raise the monthly payment on a median-priced home by about $250 (your scenario may differ). While rates are still considered low from a historic standpoint, today's buyers are gonna feel that bump.
So, how can home buyers make this current, shifting market work to their advantage?
Be careful with your money. This is not the time to be writing highly competitive offers. There are still some listings that are hot homes priced to sell quickly and competitively. Do not get caught up in a bidding war….unless you can afford it and the market data supports paying over list price. Getting advice from a great realtor (aka me) who understands market data and the appraisal process is essential. You do not want to get into a house that doesn't appraise, as that is one of the thorniest negotiations to work out, and you don't want to pay too much for a home as the market is shifting from a sellers to a buyers market.
Have some respect for the seller. Sellers are crestfallen right now about missing the heights of the market. So, don't misread the shifting market as a free-for-all. Writing offers that are 10-20% below list price can cause a stubborn seller to refuse you outright or make further negotiations more difficult.
Consider other aspects of the offer and buying process. Ask for closing costs, as sellers are particularly obsessed with sales price right now. Also, keep in mind that other aspects of the deal need to be negotiated, like repairs, and you need to keep the other side engaged. Go ahead and make offers that are below list price and ask for closing costs, but try to be reasonable. Sellers are anxious, but they are not desperate.
Be careful with contingent offers. The market is quite nice right now for people who are selling one home to buy another one. As a seller, you have likely built up some nice equity, and, as buyers, you should get a nice little discount in a shifting market. But, watch out for a string of sale contingencies. You should be wary of making offers on homes, where that seller is buying a home contingent on your purchase and sale. Also, be wary of accepting offers on your listing from buyers who need to sell a home. One tiny wrong move can cause a path of destruction. Look for other alternatives, like carrying a second mortgage for a short period, if you can swing it, or arranging interim short-term housing between selling your home and buying another.
Avoid "analysis paralysis." With so much choice in the market, it is easy to get bogged down by too many options. Make a list of what is most important, as well as what you want to avoid, and stick to it. When you have a list of 2-4 homes you like, make a quick pro-and-con list comparing them. And, then pick one! No home is perfect, but lots of houses are pretty darn good. Save yourself some stress and forget about "perfect" by choosing the one that is the most right for you.
Finally, the number one best thing you can do to when buying a home in this shifting market: have me as your buyer's agent!